Gen 20.21- It's All about Teens
It's all about School, Skills, Scholarships & Startups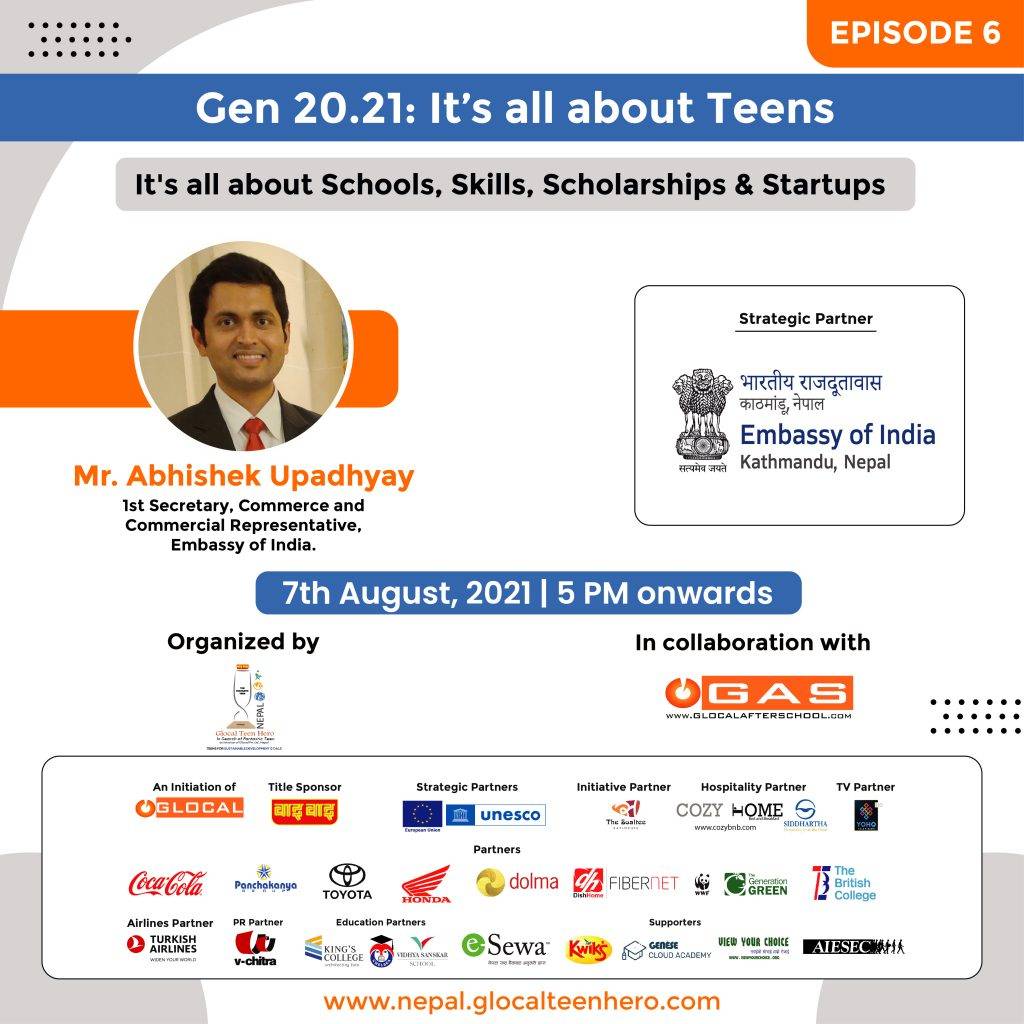 Starts August 07, 2021
Webinar Overview:
'Gen 20.21 is an initiation of Glocal Teen Hero which is a webinar series that will showcase or highlight the different social issues to help teenagers understand from broader perspectives. At the same time, teenagers who are working on different SDGs in creating positive impact will get an opportunity to learn and connect with expert leaders from different countries and put forward their perceptions in their working areas.
This initiation is a part of Glocal Teen Hero in collaboration with Glocal After School (GAS) which is a learning platform/ solution for every individual to get engaged in skill development, identify their needs and interest, follow their passion, and lead their initiation.
Episode 06: It's all about School, Skills, Scholarships & Startups
An interactive webinar, which will provide many opportunity information by Indian Embassy for Nepalese teenagers & youths. The program takes the concept of social polling to the next level, allowing everyone to know or understand about "Owning the Opportunity" and accelerate the Learning Curve. The early opportunities are meant to develop the skills of an individual. Because school is the one who is creating the future leaders for tomorrow. All these terms – School, Scholarship, Skills, and Startups are interlinked with each other. To create one good "Startup Leader" both Opportunities & Skills play a vital role. If these both are grabbed by students at the school level that will better, create a success mountain.
The program will connect the young talents to the experiential learning that may lead towards skill development to startup creation. It also equally educates about the academic importance and puts focus on practicing Skill Development. It shall embed the opportunities to use or practice skills from the secondary / school level. The webinar will guide teenagers & youths to experience the process from an early age and put their skills into new creativity by widening their area to explore more out of the national boundaries.
Why attend this webinar?
Explore & Unlock the scholarships & opportunities.
Improve Productivity and living fundamental values.
Identify and try new approaches needed for growth.
Earn the Skill and Invest in Behavioral Development.
Inspire Youths & Teenagers to be involved in Startups.
Guest Speaker:
Mr. Abhishek Upadhyay, 1st Secretary, Commerce and Commercial Representative, Embassy of India.
Webinar Duration: 1 hour